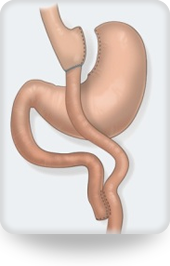 What is Gastric Bypass?
For patients with metabolic diseases, diabetes, hypertension etc... Consist of stapling the upper part of the stomach creating a small pouch of approximately 1 and a half ounce and pull up a portion of small bowel to the created reservoir and allowing the food to pass in small quantities that cause early satiety as well, and malabsortion mainly of carbohydrates.

This surgery needs no future adjustments as the gastric band does. 
Dr Arizpe has been performing this kind of surgery since 1998, and as a referal center the hospital of specialties from monterrey is now operating and average of 3 to 5 gastric by pass per week.
For information on costs of the procedure do not hesitate to contact us to give you the best options of hospitals according to your convenience.